Well folks, it's that time of year again! Taylor swift is at the center of some very star-studded drama. There are so many threads here, and they're all tangled up in the issue of artists' rights — something swift has been publicly passionate about in the past. A $300 million deal for Scooter Braun has left swift — and the internet — rattled, but it's not crystal clear who's in the wrong.
Here's what we know so far, and who's involved with all the receipts, tweets, and the messy like.
1. Taylor swift, duh!
On Sunday, Taylor took to her Tumblr to express her dismay that Scooter Braun, best known for being Justin Bieber's manager and the owner-founder of School Boy Records, will now own her music catalogue, which includes all her albums and masters. Braun is acquiring Big Machine Label Group, which has been swift's label since her debut album in 2006. She is now signed to Universal Music Group, where she will own her music in the future.
She pointed fingers at Scott Borchetta, Big Machine's CEO and founder, accusing him of taking advantage of her toward the end of their working relationship: "When I left my masters in Scott's hands, I made peace with the fact that eventually he would sell them. Never in my worst nightmares did I imagine the buyer would be Scooter," she wrote. "He knew what he was doing; they both did. Controlling a woman who didn't want to be associated with them. In perpetuity. That means forever." swift also claims that she learned of Braun's purchase as it was announced to the world. Additionally, she claims she was not given the opportunity to own her work in the first place.
Why does it matter so much that Scooter Braun will own Taylor swift's music? Essentially, it boils down to other celeb drama from the past. swift says that Braun has bullied her before, along with her two favorite bullies to invoke: Kim Kardashian West and Kanye West. In reference to Scooter, she wrote:
"All I could think about was the incessant, manipulative bullying I've received at his hands for years. Like when Kim Kardashian orchestrated an illegally recorded snippet of a phone call to be leaked and then Scooter got his two clients together to bully me online about it. (See photo) Or when his client, Kanye West, organized a revenge porn music video which strips my body naked …"
So this beef goes back to ancient times: 2016. The language of the Tumblr post is quite serious; phrases like "incessant, manipulative bullying," "controlling a woman … forever," and "sad and grossed out" will not sit well with fans or outsiders. It kicked things off very loudly.
2. Justin Bieber, Scooter Braun's favorite client
Bieber posted in support of Braun soon after swift's post (Braun has been Bieber's manager since the beginning of his career). On Instagram, he paired an old photo of himself and swift with a long caption. It began as an apology for the alleged "bullying," but Bieber emphasized that Braun was uninvolved and actually discouraged it.
In addition, the post quickly accused swift of trying to rile up her fans for her own gain: "So for you to take it to social media and get people to hate on scooter isn't fair. What were you trying to accomplish by posting that blog? seems to me like it was to get sympathy u also knew that in posting that your fans would go and bully scooter."
Interestingly enough, the half-apology-half-callout was quickly followed by casual posts that included some for Bieber's clothing brand, Drew House.
In what could possibly fan the flames, a report from Elle notes that swift liked a Tumblr post that claims that Bieber cheated on Selena Gomez in the past, which is part of the reason they aren't on amicable terms. Just some more (confusing!) drama being added to the mix.
3. Cara Delevingne
The model commented on Bieber's post, directly addressing him and his wife, Hailey Bieber. She's apparently on Team Taylor, since she wrote: "As a married man, you should be lifting women up instead of tearing them down because you are threatened."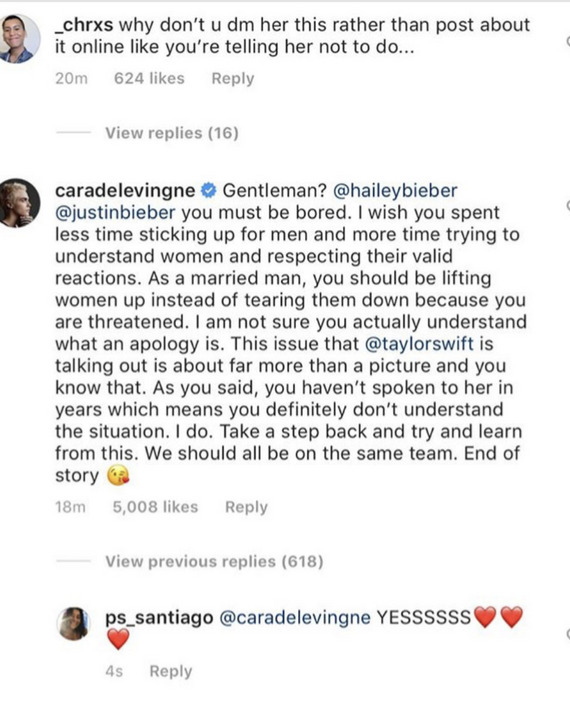 4. Halsey
The pop singer came out in support of swift on Twitter, posting a screenshot from her Notes section where she writes that "she deserves to own the painstaking labor of her heart."
5. Katharine McPhee
The American Idol runner-up and actress commented on one of Scooter Braun's Instagram posts in support of him and was met with backlash. She later defended herself in response to the criticism that she was not supporting a fellow woman instead: "I'm sorry what? Women supporting women just because we are women? That makes no sense. I'm allowed to support someone I think is a great person."
6. Scott Borchetta, president and CEO of Big Machine Label Group
Borchetta responded to swift within a few hours via a blog post on the label's website. The post, dramatically titled "So, It's Time for Some
Truth …" accused Taylor swift of distorting the facts of the situation.
Borchetta began his post by revealing something that many people might not have known otherwise: that swift's father, Scott swift, is a shareholder in Big Machine. All shareholders were alerted of the sale on Tuesday, June 25, Borchetta claimed, and the details were finalized in a shareholder's vote on Friday, June 28. Borchetta also said that he contacted swift via text message on the following Saturday to personally let her know of the situation.
These details imply that, by Friday, swift may have known through her father about the sale. This would make her claim that she found out when the rest of the world did on Sunday a lie. If there is any truth to the possibility that swift may have known earlier, and if Borchetta is being honest, then swift may have foreshadowed the incoming storm. She posted a selfie on Instagram, outside in sunglasses this past Friday. The photo was simply captioned "✌️Friday calmness✌."
Borchetta wrote: "I guess it might somehow be possible that her dad Scott, 13 Management lawyer Jay Schaudies (who represented Scott swift on the shareholder calls) or 13 Management executive and Big Machine LLC shareholder Frank Bell (who was on the shareholder calls) didn't say anything to Taylor over the prior 5 days. I guess it's possible that she might not have seen my text. But, I truly doubt that she 'woke up to the news when everyone else did.'"
Borchetta also claims that swift was offered a deal in which she could possibly own her music: "100% of all Taylor swift assets were to be transferred to her immediately upon signing the new agreement. We were working together on a new type of deal for our new streaming world that was not necessarily tied to 'albums' but more of a length of time … Taylor had every chance in the world to own not just her master recordings, but every video, photograph, everything associated to her career. She chose to leave."
He also mentioned that Scooter Braun was always "positive" about swift. In addition, he brought up the fact that Braun invited swift to perform at Manchester and the Parkland March, which she declined to do. This information clouds the more political persona swift is going for with this album release.
7. Scooter Braun, record executive and manager
Braun has stayed remarkably silent, except for retweeting this very notable tweet:
8. Karlie Kloss??
The supermodel ex-BFF of swift was spotted hanging out with Braun a week ago. He posted a photo of them last in an Instagram slideshow post, making their friendship hard to spot but still public. Why would Kloss hang out with swift's notorious "bully?" No idea, but it's a weird look. Kloss and swift never announced a friendship split per se, but it's been clear for a while that they've grown apart. This move seems to solidify that.
9. Yael Cohen Braun, Scooter Braun's wife
She also posted a picture with Karlie Kloss a week ago.
After posting an Instagram in defense of her husband, she turned off comments on some posts. In her post, Cohen Braun asked swift to spare them the drama: "Leave our personal life and kids out of it. You don't understand yet what line that crosses, but one day you will." She is now receiving a storm of angry comments from swift fans.
10. Kacey Musgraves??
The country star was caught liking Cohen Braun's callout post to swift, but seems to have later unliked the post after receiving hateful comments.
11. Kendall Jenner??
As a member of the Kardashian family, it's not too surprising that Kendall Jenner also hit Cohen Braun's post with a like. Jenner was also on the receiving end of a cultural side-eye when she befriended Karlie Kloss, around the time of Kloss and swift's drifting apart.
12. Todrick Hall, singer and YouTuber
Also, to make matters even more confusing, Todrick Hall got involved on Twitter. Hall was previously represented by Braun and fired him after he felt he wasn't being treated like "a priority." He called Braun an "evil person" and "homophobic" in the first of a series of tweets on Sunday. He also came for Yael Cohen Braun and Hailey Bieber for defending their husbands, in what he referred to as "the worst form of feminist and human betrayal."
13. Demi Lovato
While Lovato's last Instagram post is in sad memoriam for her dog, Bailey, it didn't stop swift fans from leaving hate comments. They were upset about her Instagram Story, in which she defended Braun, referrinng to him as a "good man" and declaring that she will always "stay loyal to her team." Lovato is also managed by Braun.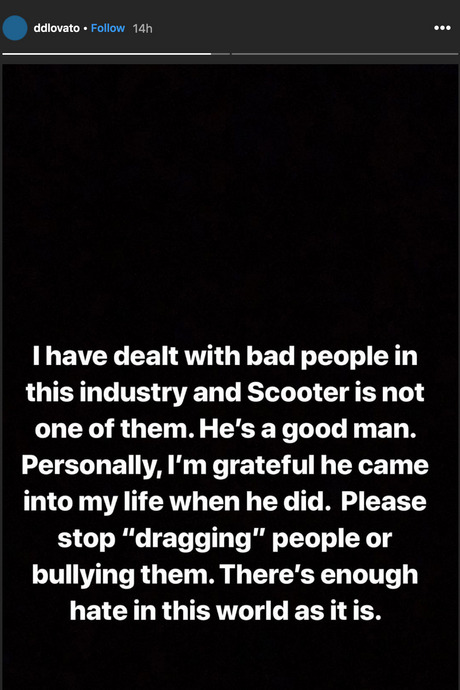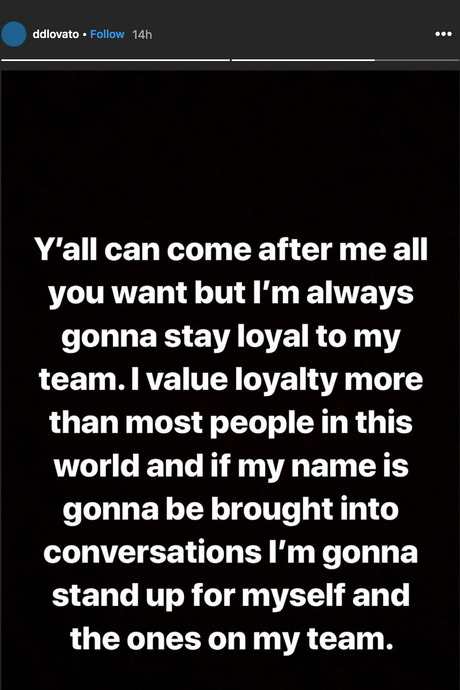 14. Speidi
On Monday night, Heidi Montag posted a tweet with the hashtag #IStandWithTaylor, marking the reality star's allegiance to swift. Her husband, Spencer Pratt, also tweeted out using the snake emoji that swift has reclaimed ever since her feud with Kim Kardashian and Kanye West.
15. Martha Hunt
The model also chimed in with a series of tweets to call attention to the situation. She expressed that, in her opinion, the situation from Braun and swift's past was one of bullying nature. As a longtime friend of swift, her decision is unsurprising.
16. Iggy Azalea
The rapper tweeted in support of swift on Sunday and implied that the rug had definitely been pulled from underneath her. "These deals take months to negotiate in long form," she wrote.
17. Brendon Urie
According to a report in Us Weekly, the "ME!" collaborator came to swift's defense in a heated livestream, where he called out Braun on his "bullshit." But he also claimed he isn't surprised by all of the drama, saying it's typical behavior: "Toxic dudes doing toxic bullshit in this toxic industry."
18. Sia
On Monday, the singer voiced her support of Scooter Braun on Twitter. Similar to Demi Lovato, she called Braun "a good kind man." As a result, she met backlash from swift fans, some of whom insinuated that Sia has appeared in blackface before. However, she cleared this accusation up in another tweet.
19. Ed Sheeran
The singer broke his silence by responding to a comment on his latest Instagram post. He says that he's been speaking to swift in private to show his support.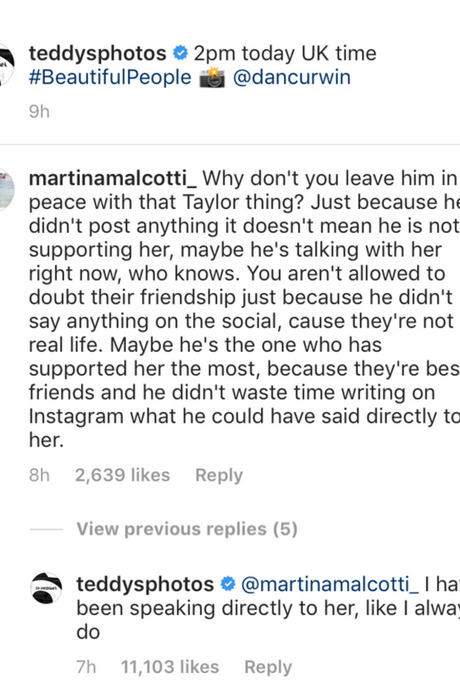 This post has been updated with additional feud participants.